Investing in Gold IRAs with Bullion
INVESTING IN GOLD IRAS WITH BULLION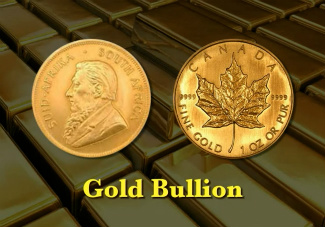 With the surging price of gold in recent years plus the concomitant devaluation of the dollar, many individuals have considered investing in Gold IRAs with bullion for their retirement plans. The microscopic returns from the stock market and other traditional fixed income investments have also played their part in encouraging people to invest in physical and non-physical precious metals.
When it comes to a gold-backed IRA investment with physical gold or other precious metals, one has a variety of options in regards to what kinds of products to invest in. According to the Taxpayer Relief Act passed in 1997, an individual is permitted to add gold, silver, palladium or platinum to their IRA. However, not all metal products are allowed in retirement accounts. One can add gold bars, coins or rounds but the items will need to meet purity standards mentioned in the Taxpayer Relief Act. The required standards are .95 purity for gold, .995 purity for silver products and a .9995 purity rating for platinum and palladium commodities.
For example, gold coins like the U.S. Buffalo, Canadian Maple Leaf and Austrian Philharmonic are allowed for an Individual Retirement Account. However, coins such as the South African Krugerrand is impermissible as it does not fulfill the purity standard. One exception to this rule are the American Gold Eagle coins which have a purity of just 91.6 percent.
If you want to invest in a retirement account with gold, platinum or silver, you will first need to check if your current retirement plan allows physical metals. If not, you will have to find a new custodian and roll the funds over from your existing account to a new self-directed retirement account. These accounts are also called gold-backed IRAs. You start by funding the account with contributions and then tell the custodian or the trustee company your choice of a precious metals dealer. The trustee or custodian will then make the gold purchase from this dealer.
The gold will be held by the company on your behalf. The gold is stored with a reputable depository service. One major issue with gold invested in Individual Retirement Accounts is finding a trustee or a gold firm that is highly experienced with a good standing reputation. The major brokerage firms generally do not play the part of a trust company for gold-backed retirement accounts, so one is left with a handful of choices that include firms like GoldStar Trust, Sterling Trust and The Entrust Group.
One must also be aware of the fees involved. The setup fee can be anywhere between $25 and $50. The annual fees include; the management fee for the handling of paperwork and production of account statements, plus a storage fee and insurance fee for the precious metals. The firms typically charge $75 to $250 for an annual management fee, and $125 to $250 for insurance and storage. Another important thing to remember about investing in Gold IRAs with bullion is that when you make a withdrawal from your account, you do not receive actual bullion. The custodian will sell the metals and pay you the equivalent value in cash.