Should You Buy Bullion for Your IRA?
SHOULD YOU BUY BULLION FOR YOUR IRA?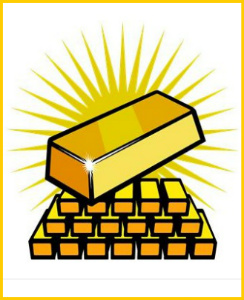 If you have considered opening an Individual Retirement Account, should you buy bullion for your IRA and invest in precious metals? You will need to determine what types of metal products you want to invest in. You may choose to purchase metal bars, "approved" coins such as American Eagles and U.S. Buffalos, or opt to invest in non-physical forms of gold – such as gold exchange-traded funds (ETFs) or stocks. Physical gold is always a better option for long-term investment plans and gold retirement accounts. ETFs are simply "paper stocks" and therefore involve all the risks and fragility associated with paper assets.
Gold, silver, platinum and palladium were approved for precious metal retirement plans back in 1997. Previously, only Gold Eagles and Silver coins were permissible for IRAs. The change especially benefited investors who wanted to include silver. This is because silver rounds and bars could be acquired at much lower premiums than what earlier silver coins could be bought for.
If you are thinking of buying bullion, both bars and coins make excellent choices. Some of the well-known rare metal coins include Canadian Maple Leafs, Australian Gold Koalas and Kangaroo-Nuggets, Austrian Philharmonics, U.S. Silver Eagles and British Sovereigns. The alloys of these coins are more than 99.9 percent pure and are perfectly ideal if you decide to buy bullion for your IRA.
However, bars are a more popular investment choice since they are sold at lower premiums than coins. There are 1 oz bars, 10 oz bars and kilo bars (32.15 oz). All of these bars are 99.99 percent pure. Similarly in the case of silver, coins come at a higher premium than many private-label rounds and bars. 100 oz silver bars are a decent and very popular investment option. As for palladium and platinum metals – bars manufactured by a COMEX or NYMEX approved refiner or by a national mint are all eligible as they meet fineness standards.
Proof Gold American Eagle coins are another excellent option. There are 1 oz, ½ oz, ¼ oz and 10 oz coins. They are also available in 4-coin sets. Since these coins are minted only in limited numbers, they will add greater value to your investment plan. Aside from the weight of the gold, the price of these coins also depends on availability and demand factors. These coins are semi-numismatic gold and are highly valued collectibles. Only a limited number of these coins have been minted each year since 1986.
Described above are some options you have for investing in a gold retirement plan. As with any investment plan, it is recommended to have a diversified portfolio. Even inside a single self-directed account, you could diversify by investing in different types of assets. You can invest in bullion in a variety of forms – bars, rounds and coins (as long as they are permissible). You may also invest in non-physical valuable metal products like gold stocks, ETFs and investment in mining companies. However, the primary goal of diversification is to reduce the risks in your investment strategy. And if you are looking for a long-term investment, "paper stocks" are not likely going to work for you. These factors should be clearly kept in mind when deciding what to invest in your Individual Retirement Account.