Why Buy Bullion as an Investment?
WHY BUY BULLION AS AN INVESTMENT?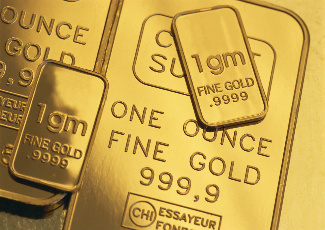 Many people buy bullion as an investment – typically in the form of bars, coins or rounds to add to their retirement portfolios. The high fluctuations in paper currency during times of economic crisis generally make holding "paper assets" a highly unstable investment option. On the other hand, volatility in the price of gold and other precious metals is considerably less than the volatility of dollars. Gold, for example, has seen a steady increase in price over the last 10 years. This is what has made gold and silver ultra popular choices for long-term investments, typically retirement accounts.
When you buy bullion, you are getting precious metal coins, bars and rounds specially minted for investment purposes. Their value depends on the weight and purity of the metal. Some of the more popular coins include the Canadian Maple Leaf, American Gold Eagle, South African Krugerrand and the Australian Gold Kangaroo-Nugget. The U.S. Mint has been producing silver, gold and platinum coins since 1986. It produces two types of such coins – uncirculated and Proof Eagle coins. Only a limited number of Proof coins are minted every year. Since they are regarded as semi-numismatic, they only hold value as collectible items.
One may also choose to purchase metal bars. In fact, bars are the preferred investment choice over most coins because they come at a lower premium than coins. Therefore, bullion investments in bars tend to be far more profitable than their circular counterparts. For gold, there are 1 oz, 10 oz and 32.15 oz (kilo bars). For silver, 100 oz bars are a widely popular option. Additionally, one can acquire platinum or palladium bars when buying bullion as an investment.
Once you decide to invest in precious metals, you will have a series of choices to make. You can acquire metals in different forms and from different sources. Although you can be selective in your purchases, you should still weigh your options carefully. Coins and bars are sold by major banks, brokerage firms and coin dealers, as well as various rare metal dealers. Banks sometimes can offer better prices than individual dealers but may not always carry your preferences. It is also a good idea to inquire at the banks if they are willing to purchase the metals back should you change your mind.
The key is for you to do some research on your own. Start by collecting quotes from different dealers. You can also check online to see what prices are being offered for certain metal products. A quick online search with the name of a particular coin can give you an estimation of its worth. You may also want to consult with your financial advisor on these issues. Another important thing to remember is to ask for the product's melt value. Regardless if it is an uncirculated coin or a collectible item, the melt value should always be available.
Although investment in metals is considered relatively safe and lucrative, there are certain things you must bear in mind. Holding physical precious metal will always incur additional fees. These fees include transportation costs, the cost of buying a safe deposit box in which to store the metals, plus additional insurance costs. One important thing to take into consideration when investing in bullion is that you need to ensure the products are delivered directly to you. If the seller has them delivered to a "secured facility" and not to the buyer themselves, there is a possible chance that the metals may not be of the quality described if bought sight unseen. Always be wary of such factors before you decide to invest in any fine metal commodities.